Allergy testing for allergic dermatitis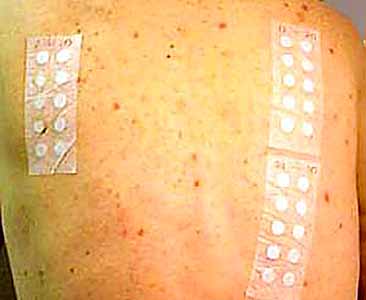 There are various kinds of allergy and therefore various kinds of allergy test. The 'patch test' is the allergy test best suited for determining the cause of Type IV hypersensitivity reactions. Typically this sort of hypersensitivity results in delayed reactions, often of an eczematous nature, occurring one to several days after exposure to the allergen.
Blue and Red Light Phototherapy for Acne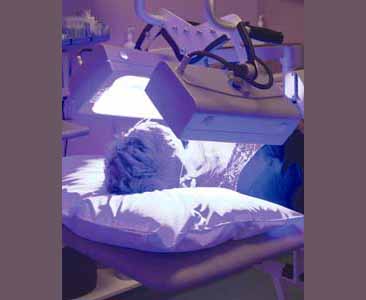 Blue and Red Light Phototherapy is suitable for the treatment of mild to moderate acne, affecting the face, chest, or back. It is not suitable for treating nodular or cystic acne.
Botox for Excessive perspiration
Botox (Botulinum toxin) injections are a very successful treatment for axillary hyperhidrosis (excessive perspiration from the armpits). These treatments are carried out by Wellington Dermatologist Dr. Lissa Judd however she does not use Botox to treat frown or forehead lines (or other facial lines) but the plastic surgeons who work at Anwyl do these procedures, and if you wish to have Botox for that purpose please request an appointment with one of the plastic surgeons rather than with the dermatologist.
Ear, nose & throat
Mr Graeme Webster provides a full range of ear, nose & throat surgery services, with a special interest in sinus surgery and middle ear surgery.
Gynaecology
Dr Dynes McConnell offers general gynaecology services, with an interest in managing heavy periods, urinary incontinence, endometriosis, post-menopausal bleeding, prolapse and abnormal smear results.
Mole & skin cancer checks

Our Dermatologist and plastic surgeons can assess your skin for skin cancer - whether it is a specific lesion that you or your GP are worried about, or we can do a full skin check if that's necessary.
We have facilities for photographic surveillance of moles (often referred to as "mole mapping").
Narrowband UVB
Narrowband UVB is useful for treating psoriasis, but also atopic eczema, vitiligo, lichen planus, polymorphous light eruption, and cutaneous T cell lymphoma.
Occupational Medicine
Patch Testing
We are happy to courier patch test tapes to your dermatologist or other suitably qualified medical practitioner, anywhere in New Zealand.
The forms (including our pediatric patch test panel) are available under the "Forms" tab on our menu. Your doctor selects the panels or haptens they want, fill in the details, and faxes the form to (04) 2331497, and we courier the patch test to them to apply, read, and interpret.
Photodynamic therapy

Photodynamic therapy (PDT) uses a photosensitising (light sensing) chemical plus Oxygen and light, to create a photochemical reaction that destroys the cells that have absorbed the chemical. Cancer cells (and also those of solar keratoses, Bowens Disease and some others) absorb these photosensitising chemicals better than normal skin cells.
Targeted Phototherapy
At Anwyl we use Dualight, which provides targeted broadband UVB ( 290-330nm with peak emission in the narrowband wavelengths)


Urologic Surgery
Mr Rod Studd practises general adult urology with a special interest in the management of prostate cancer and bladder cancer.